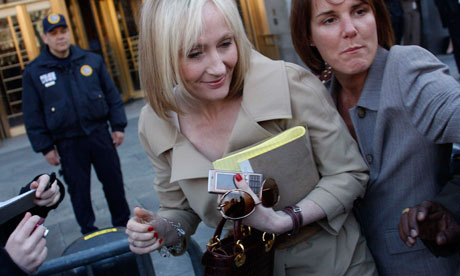 Joshua Lott/Reuters
JK Rowling is a writers' writer. I put her right up there with:
Dickens
Hemingway
Shelley
Yeats
The woman has the calling. She comes up with the most fascinating details in her books. Who can come up with those kinds of details?

Only legendary writers.
"

As you may have heard, I have a new book out later this year. Very different to Harry, although I've enjoyed writing it every bit as much,"

she Tweeted this morning

.
Fingers are tickering on Twitter, her fans have already ralllied wtih her publisher (Little, Brown in the US) in promoting her book, apt to be another best seller.
The woman worked for her fame. I love to read about how she got where she is today. The story about being on a train, and seeing a boy in the window, with big spectacles on.
Harry was born.
I envision her writing in her notebook with her baby in tow, in the Edinburgh coffee shop, day after day. She speaks about how she let her house cleaning go to dedicate her spare time to writing.


Another sign of a winner, she has focus.
While it took her a year or so to finish her first book, she never stopped writing. From everything I have seen and heard about her, she always wanted to be a writer above all else. Itt didn't hurt that she was a teacher, which gave her more insight and skill to take on this endeavor.
She is truly a legend in her own time.
All my favorite writers' had to die before anyone appreciated their work. The idea of writing about magic was brilliant.
The fundamentalists' will argue about this, but most people are fascinated by magic and the mystical.
Parents' did not give enough credit to children, thinking they would all go off and want to practice black magic after reading Harry Potter books.
And. if reading her books weren't exciting enough, the Harry Potter films put her over the top. The special effects are the absolute best. I felt like was flying on the broomstick with Harry!
Not everyone thinks the next book will be a success, however.
I am putting my money on Rawlings.