Popperfoto: Getty Images
I enjoyed watching the
Queen's Diamond Jubilee
feature on 20/20 last night. It was everything bright and beautiful. I particularly liked the look into the Queen's childhood, and how she evolved into what she is today.
What I like best is she is still traditional.
Of course, she would be. You can't be royalty and not hang onto tradition. Isn't that what it's all about?
I am in love with history. I could easily live in England. Yes, I would be homesick, but I get a buzz out of knowing that I am standing on soil centuries years' old. I revel in thinking about Ann Boleyn, Henry VIII, Queen Victoria.
I like analyzing what makes the Queen so special.
I was surprised to learn she wasn't exactly in line to the throne. But when King Edward stepped down, to marry the infamous Mrs. Simpson, her fate was sealed. Her father, King George was now King. All the activities she enjoyed as a child would have to be supervised at Buckingham Palace. Her life was restricted to growing up within the palace walls.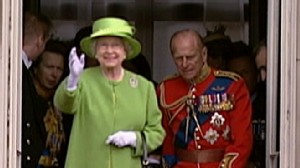 The Diamond Jubilee: ABC NEWS
But what is, and was, so remarkable about Elizabeth is she is a picture perfect Queen.
She has never given an interview to reporters, is always dressed as you imagine a Queen should be dressed. Bright, cheerful, classic.
She seems to always handle the diciest situations with grace.
Her one fumble, after Diana's death, in not participating at Diana's funeral, is the only cloud on her horizon. She handled the palace scandals throughout the years. The notorious divorce of the much more worldly Princess Margaret, the adventurous 'Fergie' and of course; the courtship, marriage and divorce of her son and Princess Diana.
I was also surprised to learn that she is a master mechanic. During World War II, she was working along side commoners repairing war trucks for England. She wasn't spoiled, and took up responsibility willingly without hesitation.
The one thing that was not negotiable was Prince Phillip. While he was a Greek Prince, King George was not enthusiastic about embracing him as a son-in-law. The demure Elizabeth, being extremely tenacious, was not about to let go of her soul mate. She stood her ground and told King George that she was determined to marry. Eventually, they became engaged, and Phillip was welcomed into the royal family.
I delight in seeing the Queen with her Corgis' and horses. She has similar interests that I have. Family, and animals are up at the top. Most people cannot envision having to give up so much to serve their country.
I would gladly offer up my services, however. I could do this for God and my country!
So it is with joy and wonder, I watch history in the making, and celebrate in my humble dwelling, her 60th year as Queen.